Social Marketing Campaigns
Emotional Intelligence and Life Skills Training Team has National and International level consultancy team to develop creative, innovative and cost effective behavioral change social marketing campaign to achieve the client objectives within the given time period. Also, EI Life Skills Training Team has higher level professional video production development team, software & application development team, social media operations Team also has strong Island wide committed, creative voluntary team to implement social marketing campaign in Island wide, Sri Lanka. In past 12 years Emotional Intelligence and Life Skills Training Team has provided services through social marketing campaigns to leading organizations in Sri Lanka.
Development and Implementation of Inclusive Tourism Social Marketing Strategies for Skills for Inclusive Growth Program
This project was implemented as a partnership between Sri Lanka government and Australian aid with Scope Global as the International implementation agency. This Skills for Inclusive growth program's aim was to reposition the image of the tourism and hospitality industry among people in the North eastern province and Polonnaruwa district. And also to promote training and job opportunities among youth, women, disabled people to get into the tourism and hospitality value chain. Various activities implemented throughout one-year period. Tools included TV advert, Theme song, Street drama, Information dissemination meetings, Talk shops, poster campaigns, hoardings etc.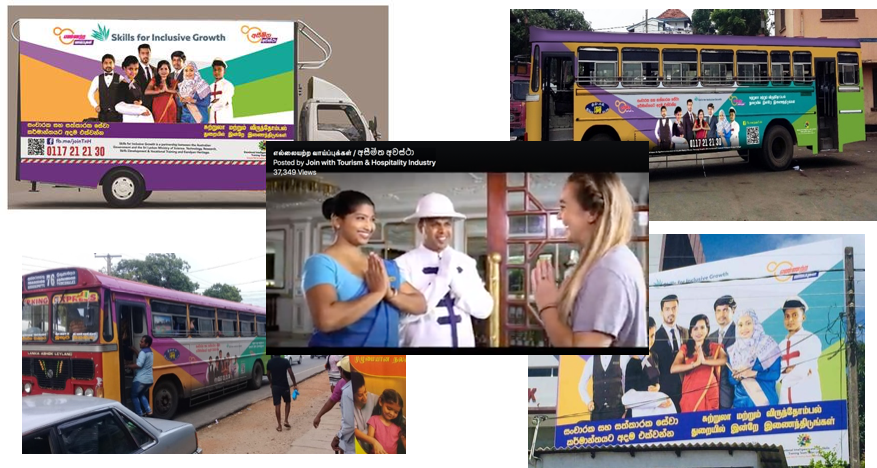 "Lassana Kolonnawa" Participatory urban wetland conservation in Kolonnawa DS, Colombo.
                  This is a project under UNDP, GEF/SGP to conserve the Kollonnawa wetland through community and youth participation. Different innovative approaches used to capture the interest and participation of youth. Wetland based livelihood development program for surrounding community and collective conservation.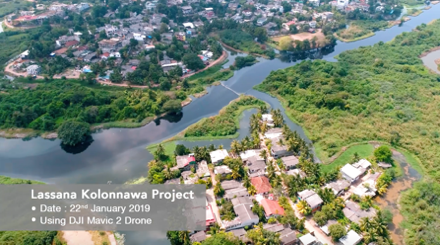 Social marketing campaign to promote hotel management and tourism sector education and career development
This project was implemented under the grants from GIZ. Project aimed at creating awareness among youth in three districts of Killinochchi, Puttalam and Mannar. Various tools were used including street drama, video screening, community meetings, poster and sticker campaigns, social media to attract and create awareness among youth and their parents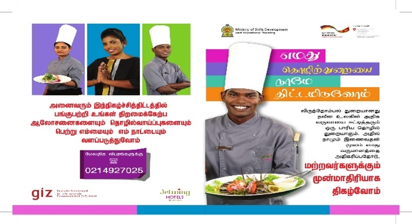 Dialog to change attitude on violence against women social marketing campaign- was concept development and implemented by EI Life Skills Team with the support of Asia Foundation to change attitudes on violence against women. The team has conducted social marketing campaigns in Jaffna, Mullaithivu, Batticaloa, Rathnapura, Matara and Galle Districts. In this campaign we have targeted community police officers, schoolteachers, children and public transport drivers. Here, we have covered 3000 directly and indirectly 12000 were benefited.

E-waste Management social marketing campaign- this was designed and implemented by EI Life Skills Team with the support from UNDP/GEF/SGP. Here, the Team aware school students, business community and general public to change their attitude to recycle the E-waste in a responsible manner.

Let's Talk Exhibition: social media channel (healthtv.lk) promotional campaign was implemented by EI Life Skills Team which was organized by WHO (World Health Organization) on World Health Day. The channel was launched by the Health Minister, Sri Lanka.

Skills and career carnival: twinning school program finale organized by UNDP and UNV with the support of the AusAID. This carnival gave students the opportunity to explore their career interests. Let us control our emotions stall was presented by EI Life Skills Team.

Be a change maker campaign: to promoting healthy food this social marketing campaign was conducted for common wealth youth conference participants and Ayurvedic international conference participants.

Commonwealth Youth Conference: social marketing campaign was organized for Chogam 2013 commonwealth youth conference.