From 4th of October to 6th of October 2019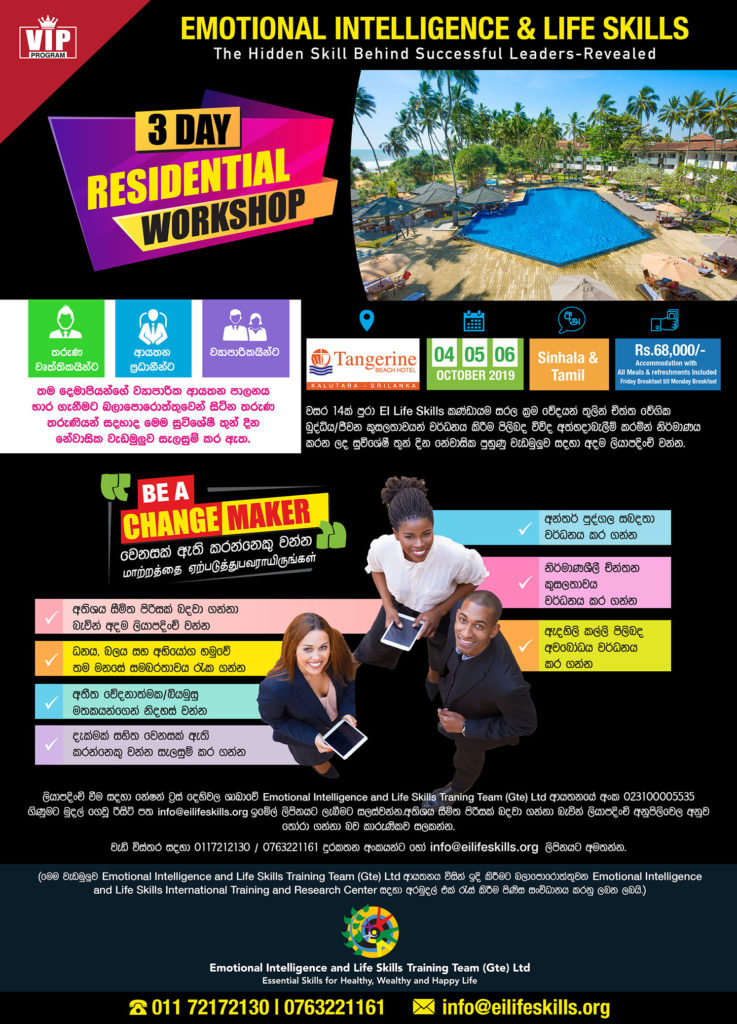 Practical Workshop for VIP's 
Emotional Intelligence and Life Skills Development
Emotional Intelligence and Life Skills Training Team is a pioneer Training and Consultancy team who is promoting Emotional Intelligence and Life Skills in Sri Lanka. Past 14 years the team has worked all over the island with different types of groups (Army Officers, Former LTTE Carders, Business Owners and Professionals) and received a huge positive response.
Based on this experience EI team has developed higher level practical Emotional Intelligence and Life Skills Development VIP Workshop for Businessmen, Upcoming Businessmen, Company Directors, Young Professionals, Models, Actors & Actress and/or anyone interested.
EI Life Skills Team is very much proud to invite you to participate to this 3 Days Residential VIP Workshop, Share Experience and Build Valuable Networks for your future developments. Workshop is conducted at 'Tangerine Beach Hotel' – Waskaduwa provided with all exclusive facilities with all 3 meals & accommodations from 4th of October to 6th of October 2019.
The workshop is conducted in Sinhala & Tamil Medium. Please find the attached Flyer for your kind reference. 
Contact Person: Mrs Nirmala Krishanth
Contact Number/ WhatsApp: 0763221161
E-Mail: info@eilifeskills.org
Please be kind enough to reserve your seats in advance (On or before 20th, Friday September 2019 – Before 5pm) to avoid inconvenience, by registering. Please find the bank details as below,
Please pass the message among your friends and family if you think that this will benefit them or anyone who is interested.
This Workshop is being organized for fund raising of Emotional Intelligence and Life Skills Training Team (Gte) Ltd to develop International Training Center.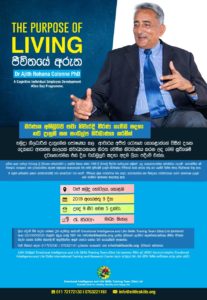 The Purpose Of Living
මරණය අභිමුඛව පවා නිවැරදි තීරණ ගැනීම සදහා  නව දැනුම සහ සංඛල්ප නිර්මාණය කරමින් හමුදා නිලධාරීන් දැනුමෙන් පෝෂණය කල  ආචාර්ය අජිත් රෝහණ කොළොන්නේ විසින් දශක දෙකකට ආසන්න කාලයක්  ස්වාධ්‍යයනයක නිරත වෙමින් නිර්මාණය කරන ලද මෙම සුවිශේෂී දර්ශනාත්මක එක් දින වැඩමුලුව සදහා අදම ලියා පදිංචි වන්න,
 ස්ථානය : ටාජ් සමුද්‍ර හෝටලය, කොළඹ
දිනය : 2019 අගෝස්තු 9 දින,
වේලාව : උදේ 9 සිට සවස 5 දක්වා.
ආයෝජනය : රැ 8500/=
මාධ්‍ය :සිංහල